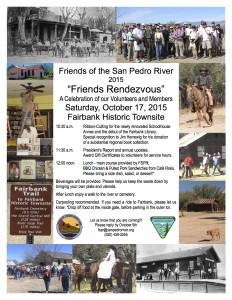 Get to know your fellow volunteers and members at the Friends Rendezvous!
We are planning a rendezvous of our volunteers and members on Saturday, October 17, 2015. Meet before 10:30 am at Fairbank Historic Townsite.  See the Contact Us page of the website for map and directions to Fairbank.
Check out the renovations as the Schoolhouse Annex and the Fairbank Library. Gift certificates will be awarded to our most dedicated volunteers! Lunch with beverages provided!  BBQ chicken or pulled pork from Café Roka.  Please bring a side dish, salad, or dessert to share along with your own plate and utensils.
See the event flyer for details.  Please RSVP!!! Email fspr@sanpedroriver.org or call (520) 459-2555.  We need to plan lunch for everyone attending!