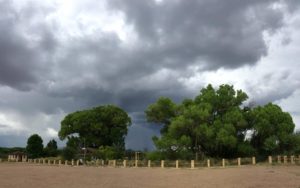 The Bureau of Land Management has notified us that pruning of the two large cottonwood trees near San Pedro House will begin Monday, October 16, and will require that San Pedro House and the surrounding area be closed to the public for up to three weeks.
Saturday River Walks scheduled for October 21 and 28 have been cancelled. The Bird Walks scheduled for October 28 and November 1 have also been canceled.
Please consider visiting some of the other recreation areas in the SPRNCA during this period, such as Millville, Fairbank, and Murray Springs.
History walks scheduled October 21 at Presidio Santa Cruz de Terrenate and October 28 at Grand Central Mill will not be affected by this closure. We hope to see you there!