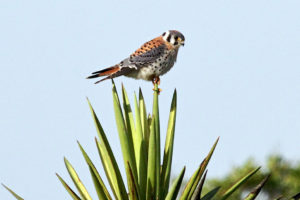 The Arizona Game and Fish Department (AZGFD) is enlisting the help of landowners and citizen scientists to assist biologists as part of the American Kestrel Partnership, a program designed to collect data to be used to conserve this important species for future generations. AZGFD is participating in the partnership, which is coordinated nationally by The Peregrine Fund.
"The goal of this project is to provide nesting habitat and raise awareness for kestrels in Arizona, while contributing to national efforts to assist these falcons," said Kurt Licence, an AZGFD biologist. "This great citizen science opportunity will help us to collect data to guide management decisions that could impact the stability of kestrel populations. That data will help us to better understand why long-term studies have shown that American kestrel populations have declined 50 percent across their range in the past 40 years."
For more information about the program, visit www.azgfd.gov/kestrel or e-mail raptors@azgfd.gov.